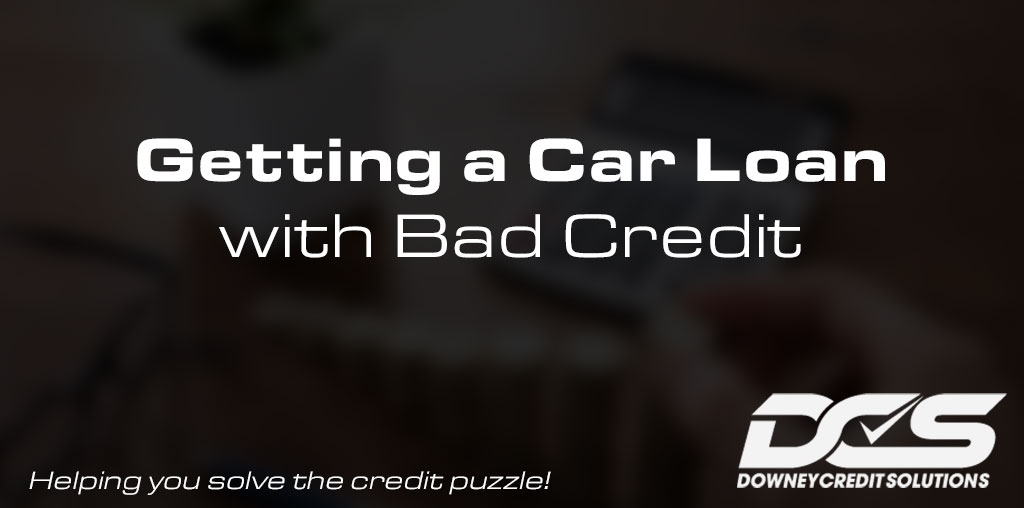 Yes, a car loan is 100% possible if you have bad credit! However, we might want to keep a few things in mind while shopping and researching online.  To help, we've compiled 5 tips for those of you reading this who may have bad credit (or no credit) and are looking to finance a vehicle.
There are tons of reasons a person could find themselves in a bad credit situation and in need of a "bad-credit" car loan. If you're reading this post, you're likely here for one of those reasons and you may have some questions about your credit and whether or not you might, or could, qualify for a car loan. The good news is that getting a car loan with less than perfect credit isn't as daunting as you're thinking. At Downey Credit Solutions we specialize in helping New Brunswickers with less than perfect credit, secure vehicle financing. And you'll deal with someone local.
‍
1. Understanding your credit situation
Whether your credit is good or bad, understanding your credit situation is important when looking for a new vehicle. If you understand where you're at with regard to your credit, you'll be able to make more informed decisions when applying for your car loan. on your next vehicle loan. Quite often customers come to us with little to no insight into their credit situation, which is okay, but we want to make sure that as we are working with you, we are informing you and helping you understand your situation. Signing off on a car loan without understanding your credit situation could be disastrous for you in the long run.
When working with our team at Downey Credit Solutions, the first step in our process is to help you gain a complete understanding of your current financial situation. When we help our customers understand their financial situation, we can help them make a better decision about the loan the are applying for.
‍
2. Understand and be realistic about your budget
The monthly payment for a fully loaded truck is much more than the payment on a compact sedan and when you're in the market for a new vehicle it's important you're realistic about what you can afford. Nobody wants to get into a vehicle and take on a vehicle loan they can't afford, so knowing (and being realistic about) your budget is crucial. Quite often customers come to us with a clear idea of the type of vehicle that they want, but they aren't exactly sure what they can afford.
Part of our process is to work with our customers to help them understand their financial situation, which helps us determine a monthly payment that fits their budget. From here we are able to figure out a monthly payment that works and ultimately a vehicle that fits both lifestyle and budget.
‍
3. Get Pre-Approved
One of the most frustrating experiences as a consumer when vehicle shopping is finding your dream vehicle and going through all the steps to purchase it, only to find out you can't get approved for the loan. For this reason, we recommend potential buyers get pre-approved before getting too deep into their vehicle selection process. When you are pre-approved for a specific loan amount you can shop with confidence.
The pre-approval process at Downey Credit Solutions is designed to be simple, easy, and hassle-free. All you need to do is fill out the quick application on our website (or give us a call) and we can have you pre-approved and shopping quickly.
‍
4. Avoid multiple loan applications
When shopping for a new vehicle (and specifically when applying for a new car loan) potential buyers will often apply at multiple dealerships over a short period of time, which can actually have a negative impact on your credit score. When applying for a loan of any kind, lenders usually want to look at your credit history to get a complete picture of your financial situation. These checks—also known as credit inquiries—can knock your credit score down by a few points , especially if there are a number of inquiries over a short period of time. If you apply for financing at a lot of places at the same time, it has the potential to make you look like credit risk, which could prevent you from actually getting your car loan. For that reason, you need to be cautious when making an application.
Something else to be aware of is that some dealerships will shop (or 'shotgun') your car loan application to many different lenders to see which ones will approve your loan. The process usually only takes a few minutes and enables lenders to compete for the loan and for the car dealership to help their customer find the best loan terms. This practice can result in a number of inquiries on your credit, which can have a very negative impact on your credit score, and ultimately prevent you from being approved for your vehicle loan.
At Downey Credit Solutions we don't shop your car loan application to multiple lenders.
‍
5. Work with a reputable dealership
Some car dealers and car salespeople have given the industry a bad name with their "fly-by-night" business practices. These dealers sometimes prey on folks who have bad credit and are desperately looking for a car loan. It is important, especially when shopping for a bad credit car loan, that you work with a reputable outfit that you can trust.
*These five tips were originally published over at Birchwood Credit Solutions.